Jersey Boys: Persiguiendo la música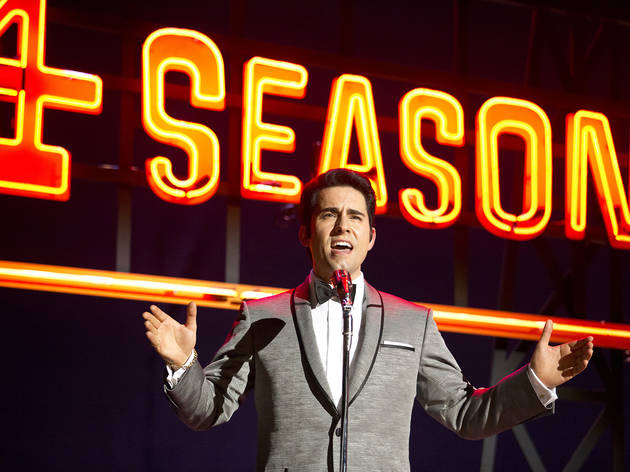 Time Out dice
Imagina Goodfellas, sin tantos obstáculos y entenderás lo que Clint Eastwood plantea en su complaciente, cuadrada y olvidable adaptación a cine de este renombrado musical que narra la historia de Frankie Valli and the Four Seasons. Al igual que la original, esta producción es vista a través de los ojos de cada uno de los miembros de la banda –Frankie Valli (John Lloyd Young), Tommy DeVito (Vincent Piazza), Nick Massi (Michael Lomenda) y Bob Gaudio (Erich Bergen) – mirando, cada uno, directo a la cámara. Es una cinta truculenta en la que Eastwood y sus guionistas lanzan al azar las secuencias. Sin embargo, funciona perfecto y le agrega un aire realista a la trama, algo así como una reunión familiar en la que todos hablan al mismo tiempo.

La historia de la banda es muy colorida e incluye mal manejo de dinero, lazos con la mafia (Christopher Walken imprime un el aire gánster a la cinta y Joe Pesci hace una aparición especial). A pesar de esto, Eastwood dirige cada escena con una monotonía abrumadora que nulifica todo el drama. Incluso cuando los personajes intercambian insultos con la mafia, la cinta escapa de la acción.

Todo esto hace que las presentaciones musicales de temas como "Walk Like a Man" y "Big Girls Don't Cry" pasen totalmente desapercibidas.
Detalles
Detalles del estreno
Fecha de estreno
jueves 17 julio 2014
Duración
134 min.
Reparto y equipo
Director
Clint Eastwood
Guionista
Marshall Brickman, Rick Elice
Reparto
Christopher Walken
John Lloyd Young
Michael Lomenda
Vincent Piazza
Erich Bergen

Los usuarios dicen