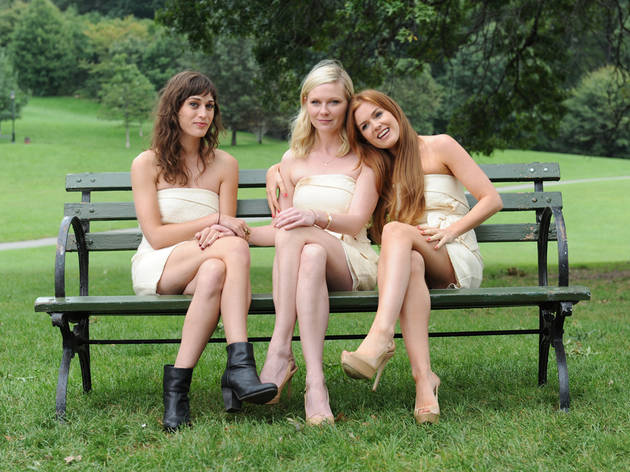 Time Out dice
Ya lo dice el mantra de las bodas "debes usar algo usado". Leslye Headland, literalmente, se basó en esta tradición prenupcial para maquilar su cinta The Bachelorette. Tomó prestada la esencia de Bridesmaids, a los personajes de The Hangover y hasta el ritmo de Despedida de soltero –sí, la de Tom Hanks–, para presentar esta cinta que carece de la misma emotividad y astucia de las anteriores, pero tiene una gran ventaja, es mucho más real y no teme presentar a las protagonistas femeninas como frat girls enamoradas del alcohol, el sexo casual y un lenguaje digno de una cantina de barrio.
La historia trata sobre un grupo de mujeres (Dunst, Caplan y Fisher), las damas de honor en la boda de su amiga menos atractiva de la preparatoria (Rebel Wilson). Después de una sesión de licor, accidentalmente destruyen el vestido de novia y vagarán toda la noche –con nauseas, baños lujuriosos y strippers– para intentar arreglarlo.
Headland cumple con el objetivo principal de desarrollar una comedia que analiza las relaciones y envidias de un puñado de treintañeras que tienen miedo al compromiso, a la soledad y a la madurez emocional (como una reunión de Mean Girls, diez años después). Sin embargo, el sentido del humor abusa de la ironía sexual y los gags provocan risa por el simple hecho de ser actitudes masculinas perpetradas por una mujer. Ese es el principal error, además de personajes simplistas que no salen de su zona de confort: Dunst es la hembra alfa/WASP con problemas de imagen, Caplan una junkie devorahombres y Fisher la chica sexy con el cerebro en su escote.
Detalles
Detalles del estreno
Fecha de estreno
viernes 5 julio 2013
Duración
87 min.
Reparto y equipo
Director
Leslye Headland
Guionista
Leslye Headland
Reparto
Kirsten Dunst
Rebel Wilson
Lizzy Caplan
Isla Fisher

Los usuarios dicen