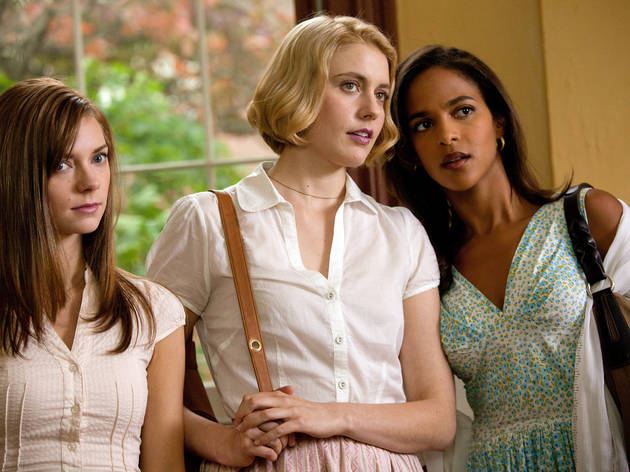 Time Out dice
Whit Stillman nunca fue un prodigio, pero su retorno al cine lo es: Stillman, con su trilogía yuppie-burgués de los 90 (Metropolitan, Barcelona y The last days of disco), forjó una nueva tendencia en el cine independiente, donde la producción no estaba sujeta a los cánones monetarios, sino a un guión inteligente, beligerante y cuyo propósito era crear un pequeño cosmos estético. Sus obras fueron inspiración directa para la carrera de cineastas como Wes Anderson, Noah Baumbach o P.T. Anderson.
Después de 14 años de ausencia, regresa con Damsels in distress, una cinta que si bien está ambientada en una universidad elitista durante esta década, se siente anacrónica y pretenciosa. Estos adjetivos no son fallas, sino atributos que Whitman despliega con elegancia y naturalidad: es refrescante ver una cinta sobre adolescentes quienes pueden articular más de cinco palabras elocuentemente y cuyas vidas no se basan en la ingesta maratónica de alcohol.
En cambio, las protagonistas son cuatro chicas con vestidos sesenteros, quienes están encargadas de dirigir un centro de ayuda para evitar que sus compañeras de escuela se suiciden. El grupo integrado por Violet (y otras dos compañeras con nombre de flor) tiene unas sencillas reglas de vida que involucran la elección de los hombres con quienes pueden salir para evitar una debacle sentimental. Las teorías amorosas que expone Whitman a través de la elegancia de Greta Gerwig (Violet), son naive y satíricas -el status quo universitario como brújula sentimental o el sexo como consecuencia de un cortejo intelectual-, pero al mismo tiempo, inteligentes y divertidas.
Es como ver Heathers con una pizca de Woody Allen.
Detalles
Detalles del estreno
Reparto y equipo
Director
Whit Stillman
Guionista
Whit Stillman
Reparto
Adam Brody
Analeigh Tipton
Greta Gerwig

Los usuarios dicen