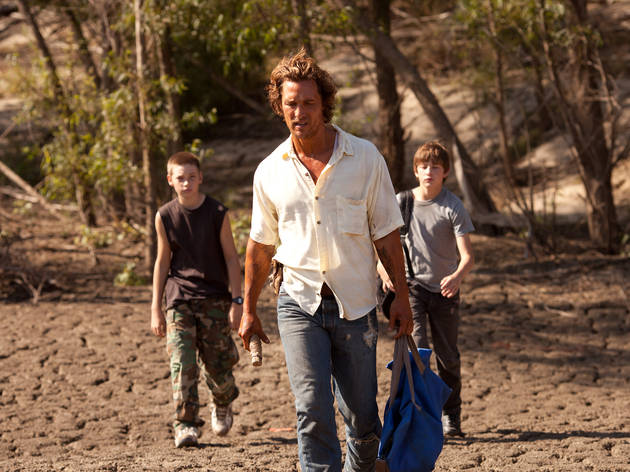 Time Out dice
En Arkansas, un adolescente llamado Ellis (Tye Sheridan) está viendo su vida pasar lentamente. El medio de vida de su padre, un pescador, se está secando, su madre habla sobre un posible divorcio y parece que el estado va a arrasar la casa de su familia en un intento de modernizar a una comunidad moribunda. Ellis necesita algo en que creer, y lo obtiene cuando él y su amigo Neckbone (Jacob Lofland) descubren a un carismático solitario llamado Mud (Matthew McConaughey) que vive misteriosamente solo en una remota isla de un río.
El escritor y director Jeff Nichols, una vez más apunta a la mezcla incisiva de la alegoría y la verosimilitud que marcó sus dos fabulosas películas anteriores, Shotgun Stories (2007) y Take Shelter (2011). Su sentido de lugar sigue siendo inigualado: la dureza y la belleza de esta opción económicamente deprimente donde indescriptibles centros comerciales comparten lugares con selvas virgenes míticamente pantanosas, se representan claramente en las composiciones panorámicas arenosas que dan a las actuaciones un aire adecuado de fábula.
Pero a pesar de los mejores esfuerzos de un cast que mezcla novatos como el actor de The Tree of Life, Tye Sheridan, con divas de Hollywood como Reese Witherspoon, hay una torpeza general que Nichols es incapaz de superar. El tratamiento del productor de los malestares del protagonista adolescente es ligero y derivativo, mientras que el clímax se siente más como un homenaje a The Night of the Hunter a medias, en vez de la horrorosidad que es despertar en la edad adulta que exige la historia.
Esta insensibilidad temática es una regresión triste para un artista cuyo trabajo hasta ahora posee una sofisticación y madurez distintiva.
Detalles
Detalles del estreno
Fecha de estreno
jueves 27 junio 2013
Duración
130 min.
Reparto y equipo
Director
Jeff Nichols
Reparto
Reese Witherspoon
Matthew McConaughey
Michael Shannon
Tye Sheridan

Los usuarios dicen