Exit Through the Gift Shop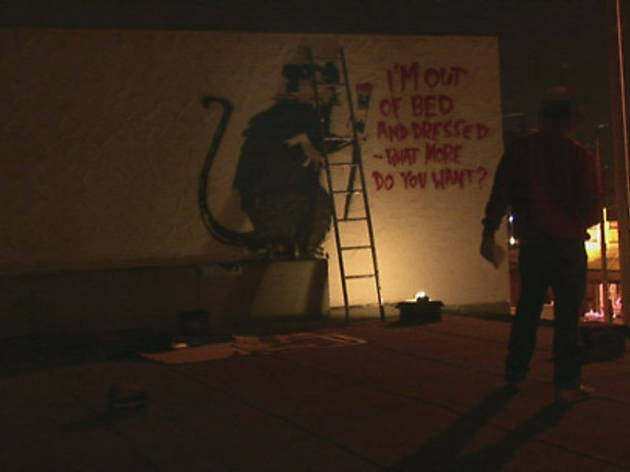 Time Out dice
Deja que la poca luz capturada —de Los Ángeles después de la medianoche— te empape en la perversamente brillante Exit Through the Gift Shop, y podrás sentir que estás cometiendo un crimen, planeando una travesura o cayendo en una estafa. (¿Hay una mejor definición para ver una película?) Los personajes de la vida real de esta cinta, son creadores de street art, no confundir con graffiteros. Más bien, le invierten tiempo, se extienden, como el iconógrafo de Obama, Shepard Fairey, a lo largo del piso de una papelería con recortes elaborados, o pintura, cuadro por cuadro, invasores pixeleados de espacios que serán pegados en una fachada inocente. A veces los cachan los policías. Más a menudo, como vemos y escuchamos en la narración del actor Rhys Ifans (el británico en la película Greenberg), crean obras efímeras de subversión.
Su rey es el misterioso Banksy, quien ha infiltrado Dinseylandia y en una extraña entrevista en la que aparece encapuchado, parece Clive Owen en Inside Man. Eso es hasta que su cabeza empieza a colgar como la de un idiota. En una fascinante sobreabundancia de algo bueno, el artista (también acreditado como el director) no sólo ha creado un discurso determinante en su entorno. También se ha tropezado con una fama de proporciones warholianas, el ascenso del fatuo "Mr. Brainwash". Al principio, este cuate era sólo nuestro humilde camarógrafo, Thierry Guetta —un papá, empresario y obsesivo contador de historias–. Pronto, él mismo empezó a aventurarse hacia la obscuridad, las horas filmadas no dejaron espacio para más gente talentosa. Exit Through the Gift Shop se convierte entonces, en el documental de arte más raro, uno que deja al espectador con un mejor entendimiento de lo que es alguien dotado a diferencia de un farsante. En muchos sentidos, Banksy ha creado un monstruo.
Detalles
Detalles del estreno
Fecha de estreno
viernes 8 junio 2012
Duración
87 min.
Reparto y equipo
Los usuarios dicen