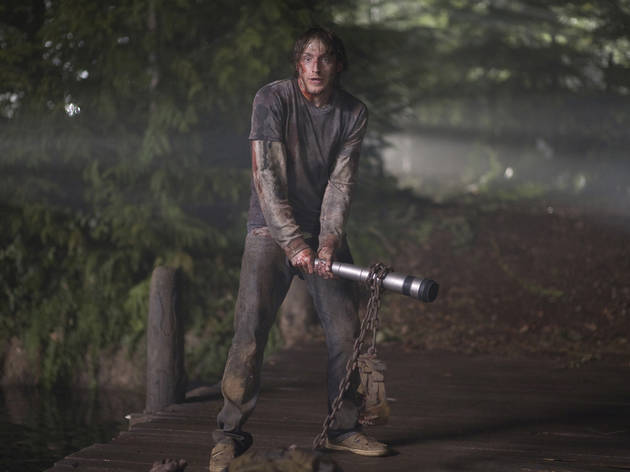 Time Out dice
Aquel viejo adagio de "más es menos" se aplica a la perfección para describir The Cabin In The Woods, una cinta cuya premisa puede desatar puntos clave y predecir giros esenciales del film. Un grupo de cinco estudiantes de universidad cada uno, un arquetipo definido: atleta, un cerebro, una "virgen", deciden pasar el fin de semana en una cabaña en medio del bosque. Sus planes de sexo, alcohol y drogas se irrumpe cuando despiertan a un grupo de zombies que comienzan a cazarlos.
Pero no es otra cinta de terror predecible o que contenga alguna moraleja; al contrario, Drew Goddard utiliza los clichés a su favor, tal como lo hizo Scream 15 años atrás: The Cabin In The Woods es una parodia inteligente y bien estudiada sobre la forma en que las fórmulas arcaicas y preestablecidas se desgastan. La cinta es un coctel de referencias para cualquier fanboy de Hollywood, pero al mismo tiempo, una burla explícita a la decadencia del cine de horror. Goddard se aleja del gore de Saw y "torture porn", y cambia esta esencia visceral por una obra mucho más sensorial, donde involucra ciencia ficción, literatura, paranoia y un estilo visual parecido a Matrix o El cubo.
Dos advertencias. La primera, después de ver la película, no se las arruines a los demás: no la platiques, no publiques nada en tu muro, no uses Twitter¾no exageramos, tiene un spoiler importante¾. El segundo: hay que ser honestos, The Cabin in The Woods no reinventa el género, pero te devolverá la fe en el cine de terror.
Detalles
Detalles del estreno
Reparto y equipo
Director
Drew Goddard
Guionista
Joss Whedon, Drew Goddard
Reparto
Chris Hemsworth
Richard Jenkins
Bradley Whitford

Los usuarios dicen