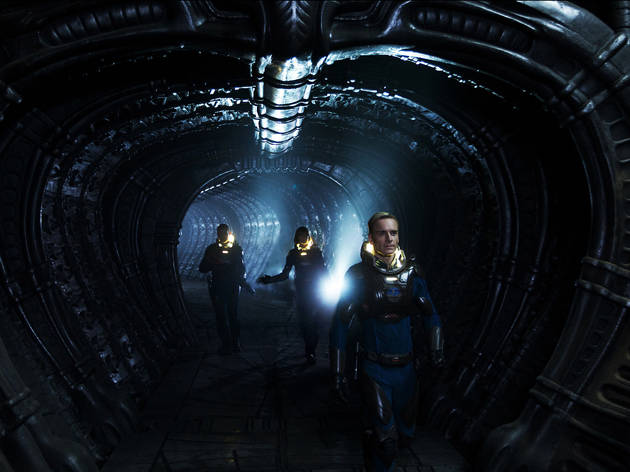 Time Out dice
Va a ser difícil hacer una reseña sin contar partes de la película que te la puedan arruinar, porque aunque seas un traumado que leyó todo lo que salió y vio todos los trailers y clips, no sabes lo que te espera. Puedo empezar diciendo que Ridley Scott es un genio y que una semana después de ver la película sigo resolviendo cosas en mi cabeza. Y es porque todo pasa tan rápido y hay tanta tensión que no te da tiempo de digerir un evento porque ya está pasando otro más fuerte que el anterior, y tampoco es como que Scott te lo quiere explicar. Por eso cuando sales de la película y empiezas a repasar todo lo acontecido, te vas a hacer mil preguntas y así se generarán las conversaciones que tendrás con tanta gente a lo largo de las siguientes semanas. No soy muy fan del 3D, pero para esta cinta lo recomiendo ampliamente, le da profundidad a los impresionantes escenarios sin abusar al estilo Disney –al punto que se te va a olvidar que traes esos incómodos lentes–. Lo mejor de la película, además de la película en sí, es David, personaje interpretado por Michael Fassbender. En los últimos tres años Fassbender ha demostrado su capacidad para interpretar todo tipo de personajes a la perfección, y de todos, David puede ser el más memorable y el mejor logrado ya que encarna un robot que con los gestos más sutiles, a momentos amas y a momentos temes y que aún cuando termina la cinta no sabes si lo amaste o lo odiaste. Otra sorpresa es Noomi Rapace –la de la versión original de The Girl With the Dragon Tattoo– con una gran actuación, aunque a veces la quieras matar. Y el que la hace de Charlie Holloway no es Tom Hardy, aunque jures que es él.
Si te preguntas si tienes que ver Alien antes de ver Prometeo, yo no la he visto en años, ya no me acuerdo bien que pasa, y sé que lo que no entendí no tiene nada que ver con eso, sino con que Ridley Scott no nos lo quiso explicar. Se me están agotando las cosas que decir sin contar nada de la película, así que ve a verla y luego platicamos
Detalles
Detalles del estreno
Fecha de estreno
viernes 15 junio 2012
Duración
124 min.
Reparto y equipo
Director
Ridley Scott
Reparto
Charlize Theron
Idris Elba
Guy Pearce
Michael Fassbender
Logan Marshall-Green
Noomi Rapace

Los usuarios dicen