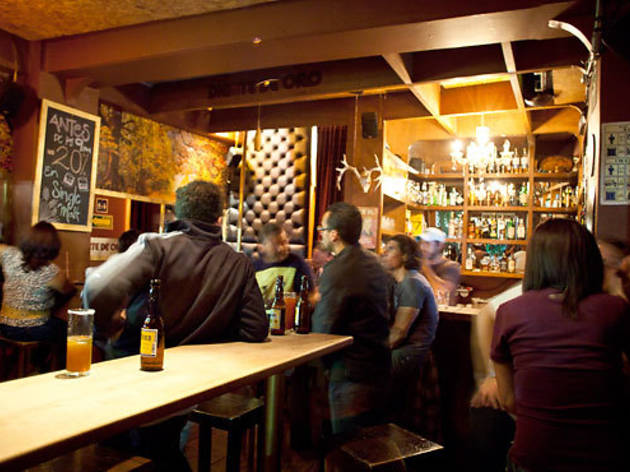 Este bar pequeño se ha hecho de cierta fama gracias a su carta de single malts que suman poco más de 30. Aunque la vitrina de la barra luce algo triste y notamos que algunos whiskies no están disponibles, como el japonés Yamazaki, encontramos algunas delicias, como el Balvenie 12 años Double Oak y el Glenmorangie 12 años.
Algo notable es su oferta de degustación: tres single malts de 12 años a elegir del menú por 300 pesos (de una onza cada uno). Una cata recomendable si se desea probar de varias regiones sin necesidad de apostar por uno solo que promedia 150 pesos. El lugar es pequeño y la pizza no sería aprobada por la corona inglesa, pero degustar una malta con Radiohead, Siouxsie and the Banshees o New Order instan a volver con los amigos o un anochecer solitario.
Single tip: todos los días hay un descuento de 20% en single malts antes de las 9pm.
Nombre del lugar
El Diente de Oro
Contacto
Dirección
Iztaccíhuatl 36
Condesa
México, DF
06100

Horas de apertura
Lun-dom 6pm-2am
Transporte
Metro Chilpancingo o Metrobús Campeche
Precio
Consumo promedio por persona $400