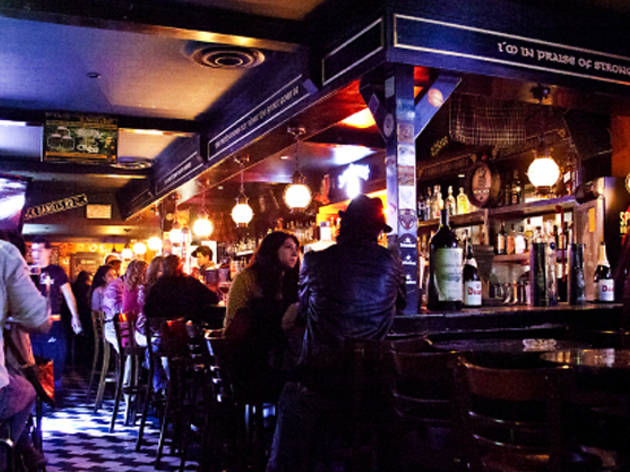 Al norte de la capital, justo en la zona con más actividad nocturna de Satélite, The Cross North Tavern se alza justo en frente del mítico Barril, el bar más longevo de la zona, haciéndole competencia al Celtics (antes Irish Pub) y al King's, los únicos pubs de tipo irlandés para los satelucos. Se anuncia como taberna (quizás para destacar de entre la cada vez más numerosa cantidad de pubs en nuestra ciudad), pero su ambiente y paredes decoradas con cuadros de bandas como The Beatles y banderas de equipos de futbol británico distan mucho de la decoración rústica y conservadora propias de una taberna. A pesar de esto, el pequeño bar cumple bien las expectativas para una noche de cervezas, whiskey y rock.
Abre sus puertas a partir de la una de la tarde para aquellos que gustan disfrutar de alguna hamburguesa acompañada de una chelita a la hora de la comida; sin embargo, el mayor movimiento de gente lo puedes encontrar a partir de las siete en adelante. Si eres de los que empiezan temprano, alrededor de las ocho escucharás canciones "clasicas" de artistas como Elvis Presley, The Doors y Supertramp. Ya para las diez, llega un cambio de música junto con nuevos visitantes, incluyendo éxitos en inglés de los ochenta y noventa como antesala a la presentación en vivo de alguna banda de covers, que por lo general tocan temas de Guns and Roses, The Cure, The Strokes y Kings of Leon.
Si asistes entresemana podrás "correr con la suerte" de que esa noche se presente alguna banda que rinda tributo a The Killers, Metallica, AC/DC o Led Zepellin.
Como todo pub, su carta consta de una gran variedad de cervezas nacionales e internacionales, además de una sección denominada Irish Cocktails, entre los que se encuentra la especialidad de la casa: el Cross Cocktail, una mezcla de whiskey con cerveza oscura.
Nombre del lugar
The Cross North Tavern
Contacto
Dirección
Manuel E. Izaguirre 6
Satélite
Estado de México
53100

Horas de apertura
Dom-mar 1:30pm-3am, mié-sáb 12pm-4am
Precio
Consumo promedio por persona $250
Rating Breakdown
5 star:

0

4 star:

2

3 star:

0

2 star:

0

1 star:

0
Este lugar me encanto para ir a celebrar mi cumple
Muy buen lugar. ... no muy caro...buen servicio y elambiente super.... me gusyaria mas promociones para talos cumpleanos