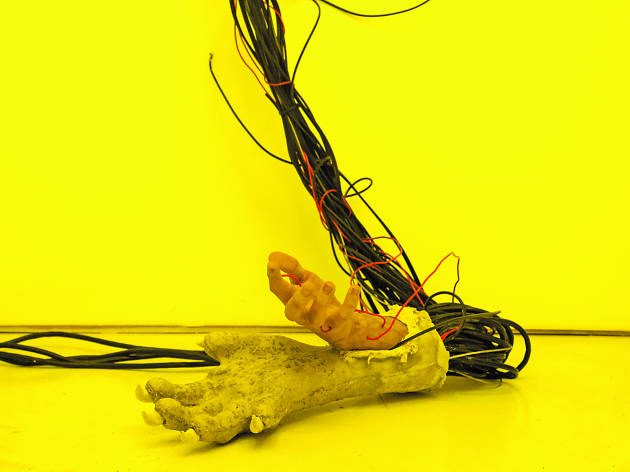 Este proyecto resume bien el momento que se vive en la escena del arte en la ciudad y la atracción de este barrio con rentas accesibles para los artistas. Lodos es una iniciativa de Francisco Cordero-Oceguera, graduado del School of the Art Institute of Chicago (SAIC), que tenía el objetivo de crear un espacio, siguiendo la tendencia de Chicago de abrir galerías en los departamentos, para entablar un diálogo crítico con artistas de su generación.

"Me había graduado y seguía en Chicago trabajando en el Museo de Arte Contemporáneo pero ya no tenía ese diálogo diario con mis colegas, para mí esa fue la excusa para abrir un espacio", dice Francisco. Al regresar a México en 2013, buscó un estudio donde pudiera retomar el proyecto y la gente que conocía en el medio (Galería Yautepec y Casa Maauad) estaba en la San Rafael, por eso rentó un lugar ahí. El espacio de exhibición es una habitación detrás de lo que era un taller mecánico. En 2016 se mudó a su nueva sede en el Centro.

Francisco trae algo refrescante a la escena porque los artistas con los que estudió en Chicago y que invitó a Lodos, no eran mostrados aquí en México y están triunfando a nivel internacional, como el tailandés Korakrit Arunanondchai o el estadounidense Puppies Puppies. Su propuesta ha cautivado al público de las ferias de arte y ha logrado rentabilizarse; cada vez llega más gente a las inauguraciones en la pequeña galería, que funciona por citas, aunque Francisco quisiera expandirse este año y ofrecer horarios abiertos al público.
Nombre del lugar
Lodos
Dirección
Edificio Humbolt
Artículo 123 116 int. 301
Centro
México, DF
06040

Horas de apertura
Previa cita
Transporte
Metro Juárez
Precio
Gratis