Hop The Beer Experience 4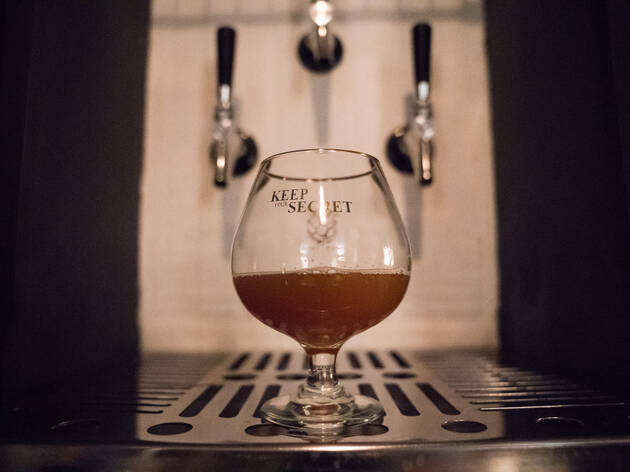 1/8
Foto: Alejandra Carbajal
2/8
Foto: Alejandra Carbajal
3/8
Foto: Alejandra Carbajal
4/8
Foto: Alejandra Carbajal
5/8
Foto: Alejandra Carbajal
6/8
Foto: Alejandra Carbajal
7/8
Foto: Alejandra Carbajal
8/8
Foto: Alejandra Carbajal
Time Out dice
El cuarto pariente de la familia Hop The Beer llega a Polanco con speakeasy y cerveza de especialidad.
A seis años del primer Hop The Beer en la CDMX, las cosas han cambiado bastante. Hemos entrenado nuestros paladares para apreciar una cerveza artesanal y poder encontrar sus notas así como un café o un vino. El cuarto Hop The Beer abrió sus puertas hace 6 meses y a pesar de estar en una de las zonas Godín por excelencia, Polanco, ha ganado el respeto de quienes tomamos chela artesanal.
La novedad de este bar es consultar sus opciones de cerveza en internet con detalles como el precio, estilo, cervecera, lugar de origen, porcentaje de alcohol y cuánto les queda en el barril, así no te das la vuelta en vano.
En cuanto a la comida, cumple los requisitos de un bar y no pasa de ahí. Tienen cacahuates, veggie sticks, nachos o papas gajo. Si quieres algo más fuerte, pide una pizza puede ser por rebanada o completa. Yo pedí un horodogo –hot dog- de salchicha jumbo de ternera y cuando dicen jumbo no mienten, es casi imposible moderlo sin acabar todo sucio. Le agregaron queso, pero termine quitándolo porque su sabor no aportaba nada al hot dog porque era queso amarillo y súper comercial.
Hop The Beer cumple con el propósito de enseñarte de cervezas artesanales y poder degustar diferentes hasta encontrar la que más te guste. Ten paciencia con el servicio porque, aunque es un poco lento, las cervezas valen la pena.
Detalles
Dirección

Ejército Nacional 622
Ciudad de México
11550

Precio
Consumo promedio por persona $300
Contacto
Horas de apertura
Lun-mar 2-11pm, mié 2pm-12am, jue-sáb 2pm-2am, dom 2-11pm
Los usuarios dicen