United Colors of Benetton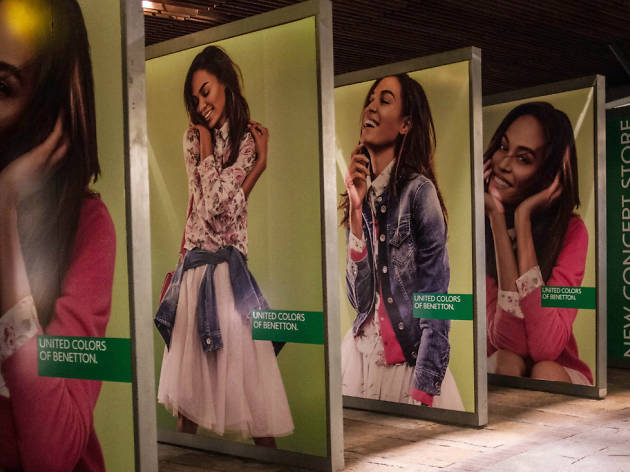 Time Out dice
United Colors of Benetton es una marca que se ha dado a conocer en el mundo gracias a su estilo basado en el color. México es uno de los 120 países en los que la firma tiene presencia, y hace un par de semanas abrió sus puertas una nueva sucursal en Antara.

La tienda tiene un espacio privilegiado, pues se encuentra ubicada en medio de dos grandes marcas: Chanel y Michael Kors. Sin embargo, no pasa desapercibida pues sus brillantes y enormes letras verdes llaman la atención de inmediato y, desde luego, te hacen querer entrar.

Lo primero que encontrarás es la sección Woman, que se compone de vestidos, faldas, blusas y algunos zapatos, todo con mucho color y de telas ligeras y vaporosas. Después está Casual Chic y un área en la que hay prendas más formales. Al fondo se encuentra Men, espacio dedicado a caballeros que casi tiene la mismas secciones de mujer.

La marca también pone a la venta varios complementos como relojes, sombreros, gafas, audífonos y termos; por otro lado, están las fragancias. El verdadero plus es la línea de ropa para perros. Las colecciones de Benetton están pensadas para la vida diaria y para que se pueda portar en la oficina o en un fin de semana.

Sí decides ir de compras a esta tienda, no olvides llevar tu tarjeta de crédito porque aquí se paga la calidad; los precios no son los más accesibles, pero son baratos en comparación con las boutiques con las que convive este local.

Esta nueva sucursal fue intervenida con lienzos de tejido de colores hechos por los estudiantes de Diseño Textil de la Universidad Iberoamericana. Bajo el nombre de On Canvas, este proyecto rinde tributo al tejido de punto que ha sido primordial en la historia de United Colors of Benetton.
Detalles
Dirección
Antara Fashion Hall
Ejército Nacional 843
Polanco
México, DF


Contacto
Horas de apertura
Dom-jue 11am-8pm, vie-sáb 11am-9pm
Los usuarios dicen