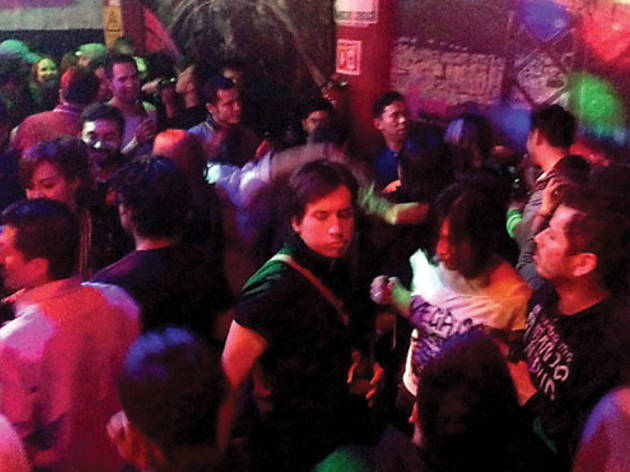 1/5
Foto: Alejandra Carbajal
2/5
Foto: Alejandra Carbajal
3/5
Foto: Alejandra Carbajal
4/5
Foto: Alejandra Carbajal
5/5
Foto: Alejandra Carbajal
Llegué antes de la medianoche a la puerta del Marrakech. Decidí esperar ahí, en medio del ajetreo de la calle, a ver si me encontraba con algún conocido o me ligaba a alguien. De pronto, comencé a repetir una estrofa como quien reza el padrenuestro: "…the smell of death is all around, and the night when the cold wind blows.." Era "Pet Sematary", de los Ramones. La rola se escuchaba extraviada, o al menos era un hecho que no salía de las bocinas del Marra.

Puse atención. La canción escapaba de un local justo al lado de éste, el número 21C. Me acerqué intrigado mientras sonaba "This Charming Man" de The Smiths. Ahí ya no pude permanecer más en la acera. Después de una inspección y sin pagar cover entré a El Buen Momento, un tugurio con tenor de cantina y personalidad rockera, con la vista bien puesta en la nostalgia (en las paredes puede verse los famosos labios con la lengua de fuera de los Rolling Stones).

El lugar te hace pensar en los hoyos funky en los que empezó la carrera de bandas como El Tri, pero con una bandera de arcoíris muy bien colgada. No es un bar de grandes proporciones y la decoración tampoco es su fuerte, pero tales insuficiencias la resuelven con su distinguida selección musical que va de lo alternativo al punk, con toques de surf: Ramones, Joy Division, B-52´s, The Smiths, Peter Schilling, Dead Kennedys y Lost Acapulco (sin caer en los greatets hits).
Con todo y su estética trash (probablemente involuntaria), El buen momento tiene el potencial para convertirse en un gran plan para chocar los tragos con música de la buena (sobre todo para los melómanos como yo que no vemos con buenos ojos a la Trevi).
¿Los precios? Nada que asuste, cervezas a 30 pesos y un tarro por 70 pesos. ¡Ah, por cierto! Se liga bien.
Nombre del lugar
CERRADO: El Buen Momento
Dirección
República de Cuba 21-C
Centro
México, DF


Horas de apertura
Mar-jue 2-10pm, vie-sáb 2pm-2am
Transporte
Metro Bellas Artes
Precio
Consumo promedio por persona $120
Rating Breakdown
5 star:

2

4 star:

0

3 star:

0

2 star:

0

1 star:

0
Lo mejor del bar es la musica, punk. Alternativo, es como viajar en el tiempo y bailar hasta quedar extasiada! El personal del lugar es muy amable y si llegas antes de las 10 las che las cuestan 20 varos. Es un buen lugar para escuchar música diferente de lo que ponen en la mayoría de los antros. Genial!!!j