Dum Dum Girls de nuevo en México
Retomamos los elementos más representativos de la charla que tuvimos con Dee Dee antes de su presentación en el Corona Capital 2012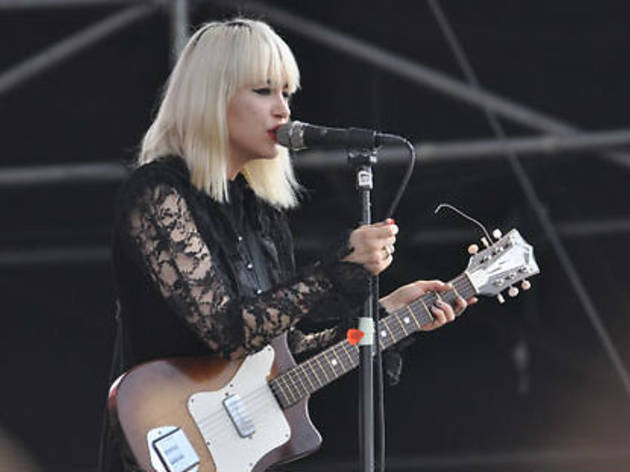 Dum Dum Girls se presentarán de nuevo en nuestro país, esta vez no en un festival sino en un concierto al que el acceso es gratuito y con invitación. En aquel entonces la banda acababa de lanzar End of Daze, EP que para Dee Dee, líder y vocalista, fue el paso final del proceso dramático que representó la muerte de su madre.
"El último EP lo hice yo sola porque así lo necesitaba, pero el disco anterior –Only in Dreams– lo grabamos como una banda, y el resultado fue mucho mejor de lo que yo había hecho. Creo que probablemente mi cambio favorito fue en "Coming Down": hubiera salido una canción muy distinta si no les hubiera dado oportunidad", comentó la vocalista y guitarrista a Time Out México, quien también aseguró que se siente mucho más segura en el escenario al lado de sus compañeras.
Actualmente la banda cuenta con nueva bajista, Malia James, y nuevo material, Too True, disco que lanzaron este año y del que seguramente ya escuchaste "Rimbaud eyes". El material fue producido por Richard Gottehrer, quien ha trabajado con Blondie y The Go-Go's; y Sune Rose Wagner, de The Raveonettes.

"Crecimos como banda. Creció nuestro repertorio, y nunca he estado interesada en reproducir lo que he hecho antes, sino en seguir adelante", nos dijo la frontgirl hace un par de años con respecto al cariño que le tiene a I Will Be, el primer disco de Dum Dum Girls, así que podemos esperar gran porcentaje de nuevas canciones en su próximo concierto en el DF.