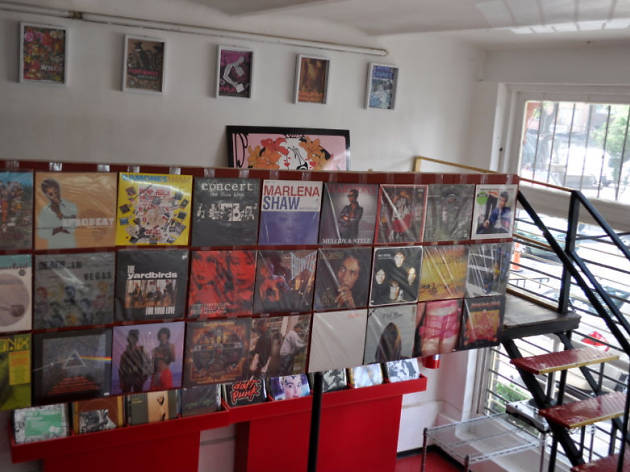 Time Out dice
Abierta en agosto de 2012, La Roma Records está estratégicamente bien ubicada en Álvaro Obregón casi esquina Insurgentes.El local es de dos pisos: en la parte de abajo están todas las novedades, reediciones, discos nacionales y viniles usados en 7, 10 y 12 pulgadas. También cuentan con algunos libros de importación y cds.

El segundo piso, además de tener las paredes adornadas con pósters de bandas, cuenta con una sección especializada para djs, con tornamesas, mixers, players, controladores y singles de música electrónica.

Pero no sólo son una tienda de discos, también crearon su propio sello discográfico y editan viniles con artistas como La Banda Bastön, Andre VII, Pato Watson, Silverio y más artistas nacionales. Tienen alianzas con disqueras como Casete y Épico.

César Sánchez Olín es quien se encarga de comprar y vender discos usados y nuevos. La Roma Records cuenta con una sección de remixes, en ediciones especiales y de aniversario.

También puedes encargar ese álbum que siempre has querido escuchar en acetato y no encuentras en ningún lado. Aquí en su mayoría encuentras material nuevo como El Camino de The Black Keys, Trouble de TEED y Visions de Grimes, pero también clásicos como The Dark Side Of The Moon de Pink Floyd o The Observer de The Orb feat. Lee Scratch Perry.

Un dato destacado de La Roma Records es que apoya el trabajo de artistas nacionales e internacionales independientes, brindándoles la posibilidad de vender sus discos, sin cobrarles comisión. Todas las ganancias van para ellos.

El proyecto ha trascendido las fronteras del DF y ya cuenta con una sucursal en Bogotá, Colombia.
Detalles
Dirección
Álvaro Obregón 200 Bis
Roma
México, D.F.
06700

Transporte
Metrobús Álvaro Obregón
Contacto
Horas de apertura
Lun-sáb 12-8pm, dom 12-4pm