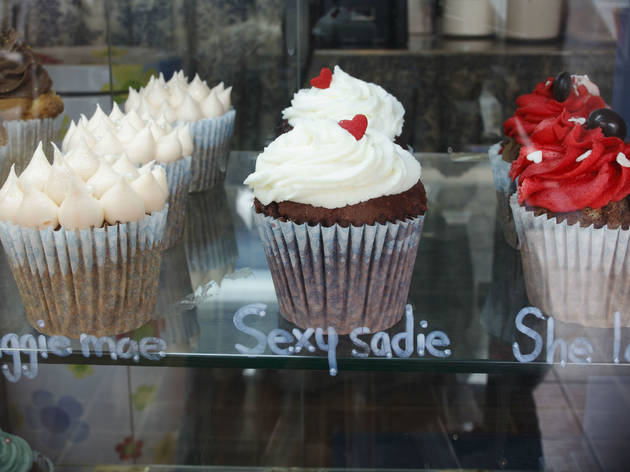 Time Out dice
Los cupcakes –o madalenas con sobredosis de azúcar, para ser exactos– están in y The Beatles, al menos en México, nunca pasan de moda. Así que si sumas estos dos elementos en un "café concepto" ubicado en un punto de fácil acceso con una dosis adecuada de decoración y música puedes tener una combinación ganadora.
Esto no quiere decir que el Cupcake Love siempre esté lleno, pero sí significa que a quienes les gusta realmente están locos por el pequeño local. Las mesas de afuera son las más cómodas, experto para quién no le gusta ver gente pasar (justo enfrentito está el Metrobús), pues en el interior del local el calor es mayor.
La decoración del lugar está basada en el cuarteto de Liverpool, con un toque de "cuento de los de antes", algo así como la casa de Hansel y Gretel si fueran beatlemaníacos. El menú vienen en sobres de correo tradicional y están cuidadosamente manufacturados. Los cupcakes tienen nombres como here comes the sun (con toque de cítricos) o blackbird (el de chocolate). También hay cupcakes del día y diferentes postres de temporada que, aunque son algo caros, valen la pena para sorprender en Navidad, 14 de Febrero, Día de las Madres o cualquier otra festividad cursi.
Si estás a punto de entrar en un coma diabético por leer esto, te aclaramos que hay opciones como ensaladas y sándwiches, inspirados en ciudades inglesas. También, jugos, tés, refrescos y bebidas frías y calientes.
Sería obvio explicar qué tipo de música se oye aquí, pero vale la pena destacar que algunas noches hay presentaciones en vivo. Si decides comprar tus postres para llevar, las cajitas están decoradas con versiones caricaturescas de los músicos. Para los adictos al lugar hay un programa de lealtad, con el que después de varias compras te dan cupcakes gratis.
Detalles
Dirección
Benjamín Franklin 125
Hipódromo Condesa
México, DF
06170

Esquina con
Ensenada
Transporte
Metro Patriotismo. Metrobús Patriotismo.
Precio
Consumo promedio por persona $100
Contacto
Horas de apertura
Lun-mié 8am-8:30pm, jue-vie 8am-9:30pm, sáb 9am-9:30pm, dom 12-7:30pm
Los usuarios dicen