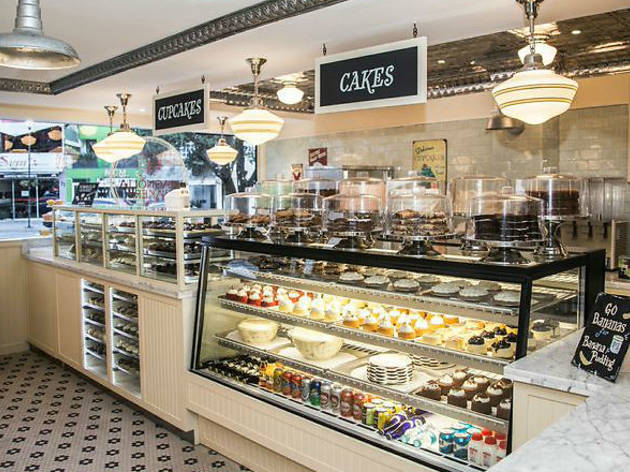 1/3
Foto: Cortesía Magnolia Bakery
2/3
Foto: Cortesía Magnolia Bakery
3/3
Foto: Cortesía Magnolia Bakery
Time Out dice
Los cupcakes que salieron en Sex and The City. Magnolia Bakery fue el lugar responsable de crear euforia por los cupcakes en Estados Unidos en los dos miles. A 19 años de la apertura de su primer local en Nueva York, sus postres tradicionales americanos por fin llegaron a Polanco.
En realidad, no todo son cupcakes. Su especialidad es el pudín de plátano, con galletas de vainilla y trozos de banana. Además, ofrecen varios tipos de cheesecakes (como red velvet, key lime, caramelo con nueces, vainilla con moras azules o calabaza con galleta de jengibre); pays fríos de crema batida y chocolates como Snickers o Reese's; muffins y galletas. Encima de todo, es una de las pocas sucursales del mundo en ofrecer un menú salado, con sándwiches, ensaladas y pastas.
Para acompañar, hay una barra de cafés con creaciones como el cappuccino de rosas, el latte de malvavisco tostado o el maple macchiato.
Uno de los retos de Magnolia fue ajustar las recetas a los 2 mil 500 metros de altura de la Ciudad de México para producir las mismas texturas que el resto de las tiendas del mundo. Lo lograron.
Tip: La terraza de arriba es mucho mejor que la de la calle. ¡Sube!
Prueba: El blondie. Primo güerito del brownie hecho con harina, mantequilla, azúcar morena, huevos, vainilla y trozos de chocolate.
Detalles
Dirección
Virgilio 40
Polanco
México, DF


Transporte
Metro Polanco
Precio
Consumo promedio por persona $200
Contacto
Horas de apertura
Lun-sáb 7am-10pm, dom 10am-6pm