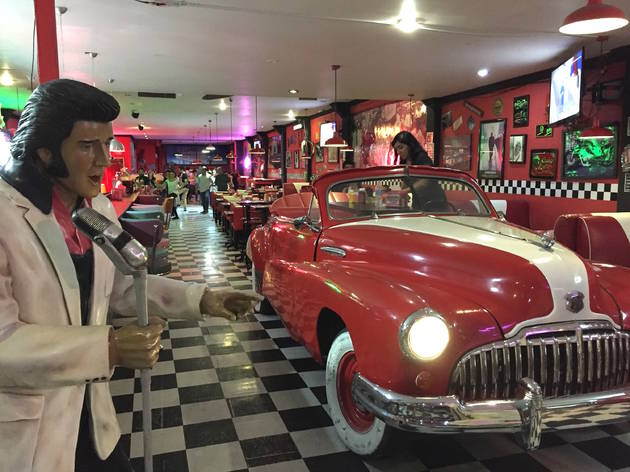 1/3
Foto: Bernardo Robredo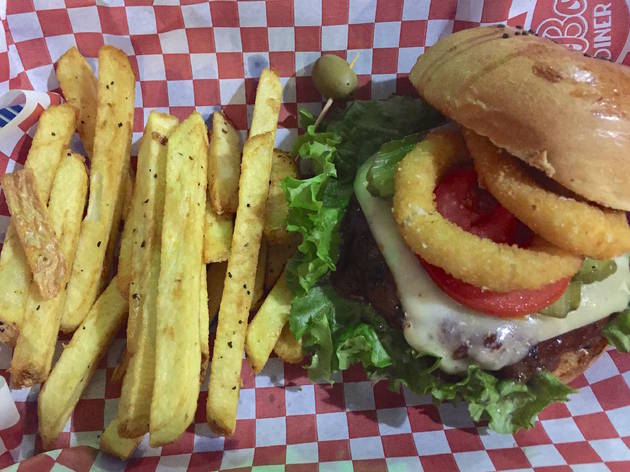 2/3
Foto: Bernardo Robredo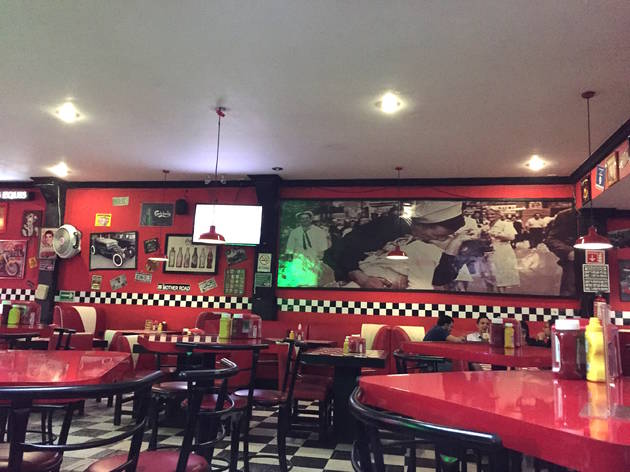 3/3
Foto: Bernardo Robredo
Time Out dice
Hamburguesas, malteadas y los años sesenta, una combinación infalible para la glotonería y para el buen pasar de un rato con la familia y amigos.
Así se siente en Be Bops, sobre todo en sus butacas típicas de los diners norteamericanos de los años cincuenta, en donde las calorías de una malteada no eran nada sin la compañía de unas french fries o una cheese burger. En la decoración encuentras el rojo intenso, lámparas colgantes estilo platillo volador, cuadros coloridos en las paredes, el piso a cuadrados blanquinegros, y por supuesto, a un maniquí de Elvis Presley entonando una melodía romántica al micrófono. Sin olvidar los autos clásicos y una pista de baile para la música en vivo.
De las entradas te recomendamos la multibotana, con aros de cebolla, dedos de queso, unas tiritas de pollo que puedes acompañar con aderezo bluecheese y búfalo; o bien pedirlas por separado. Pide la hamburguesa be bop elvis con bbq y aros de cebolla; la opción vegetariana es la pin up, de portobello. La be bops specials es una hamburguesa de 300gr de carne, doble queso y aderezada con una mermelada de habanero y chile de árbol, por si buscabas algo fuera de lo tradicional en un menú diner. Para todos aquellos que no son hamburgueseros, hay bagels como el ritchie valens, con surimi y mango.
Es un lugar completamente beer friendly, para que no te empalague la malteada de Nutella o de mantequilla de cacahuate y si vas con un grupo de amigos no olvides pedir las alitas desde 10 hasta 100 piezas. Pregunta por la malteada del mes, hay clases de rock & rollin los miércoles (7-9pm) y ofertas de cerveza de los jueves. Puedes hacer mucho más que comer en Be Bops.
Detalles
Dirección
Medellín 188
Roma
México, DF
06700

Transporte
Metrobús Sonora
Precio
Consumo promedio por persona $200
Contacto
Horas de apertura
Mar-vie 1-11pm, sáb 1pm-1am, dom 1-11pm
Los usuarios dicen