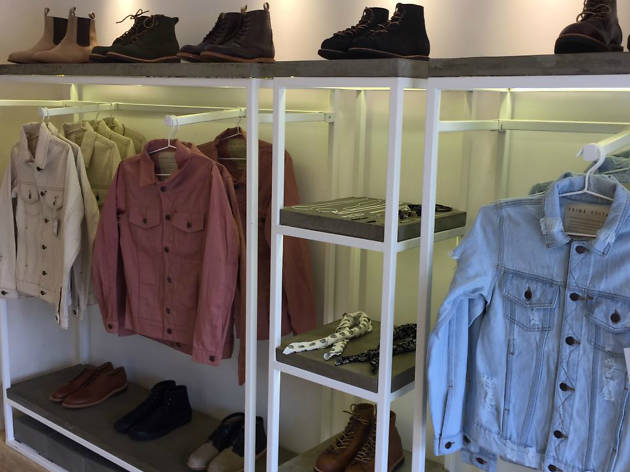 Time Out dice
Anuar Layón, creador de la chamarra con la frase "Mexico is the shit", María Mariscal, diseñadora de joyas, y Claribel Pérez y Hugo Fonce, con su proyecto de zapatos Unmarked, son las mentes detrás de todas las piezas que verás en este lugar.
El orgullo mexicano se nota desde que te acercas a la tienda. En los cristales de las ventanas se lee "Proudly mexican, Premium Goods, Shoes and Garments". Al entrar te encontrarás con un ambiente minimalista y relajado con diferentes opciones de materiales como mezclilla, gamuza y piel. Lo primero que ves al fondo de la tienda es la bomber jacket con la leyenda "Mexico is the shit" en letras doradas que la hacen aún más deseable. A la izquierda, justo a un lado del mostrador, verás un stand con los zapatos artesanales elaborados por Unmarked, firma originaria de León creada en 2011.
Para combinar los diferentes estilos de calzado encontrarás la línea de ropa Prima Volta, que ofrece prendas de mezclilla y piel. Échale ojo a sus chamarras tipo biker de gamuza suave en colores oscuros. Y para estar fresco en cualquier momento la opción es la línea de playeras, ya que están fabricadas con algodón muy suave que dejarán que tu cuerpo respire sin ningún problema.
Algo muy rescatable de esta tienda es que las tres marcas que se venden aquí (Prima Volta, Unmarked y María Mariscal) se entrelazan entre sí, la mayoría de sus prendas tienen algo característico una de la otra, lo que las hace aún más especiales, originales y únicas.
Detalles
Los usuarios dicen