Catarsis: el rock perdurará más allá de la muerte
Un viaje apocalíptico a través de los clásicos de las últimas décadas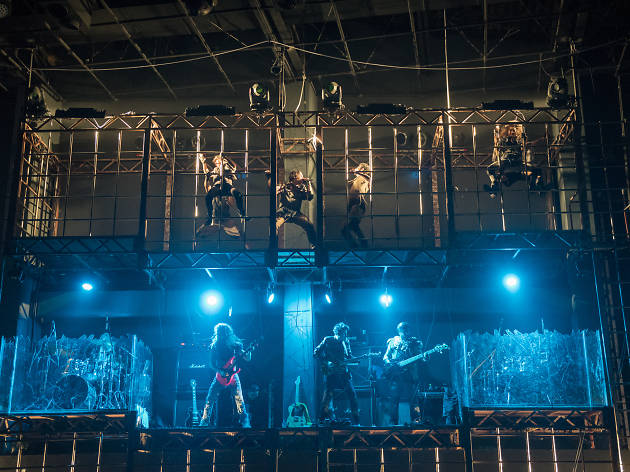 "Welcome to the jungle we got fun and games, we got everything you want". No se trata sólo de una canción de Axl Rose sino de la promesa con que inicia Catarsis —y vaya que la cumple—.
Catarsis, bajo la idea original y dirección de Héctor Martínez, es un espectáculo que a lo largo de dos horas y media te sumergirá en el mundo del rock de las últimas decadas con 69 clásicos que te harán vibrar. Vivirás en carne propia la euforia y nostalgia de la historia musical del rock en los 560 metros de un escenario octagonal con cuatro pasillos y estructuras metálicas colgantes.
Nueve cantantes, seis músicos y 20 bailarines con atuendos raídos, maquillajes extravagantes y andares salvajes —como si fuesen los sobrevivientes de un Apocalipsis— literalmente caen del cielo para demostrar que el rock perdurará mucho más allá del fin de los tiempos. Así que no te asustes si de repente volteas y está junto a ti uno de estos seres (si estás desprevenido hasta podrían intentar unirte a su séquito).
Impacta la capacidad física e interpretativa que tienen los bailarines para dar vida a cada canción de artistas como Guns N' Roses, Kiss, Evanescence, Bon Jovi, Linkin Park, Oasis, Radiohead, Muse, entre muchos otros. Además, la fuerza vocal de los cinco hombres y las cuatro mujeres cautiva por la fuerza y energía que ponen en cada nota —aunque no te guste el rock—.
Sin duda, el elemento principal de las luchas constantes que se baten en el escenario es la banda. Lo que más destaca de ésta son las dos baterías que a lo largo del espectáculo se sincronizan a la perfección.
Se agradece la ambientación en la que absolutamente todo el personal del foro es parte del show (aún cuando no aparece nadie en él). Las luces al ritmo de la música, la oscuridad a ratos y la potencia ensordecedora hacen que nada sobre y que todas las piezas encajen para hacerte decir "all you need is rock!".
Foro Centenario Centenario 159, Del Carmen. Vie y sáb 10pm. $800-$1800.