¿Cupcakes by Tom o Kim's Kitchen?
No es por malinchistas ni por menospreciar el arroz con leche ni la gelatina aguada que te dan en las comidas corridas (bueno, sí), pero si hay algo que hacen bien en Estados Unidos, son los postres. Afortunadamente, en el Distrito Federal tenemos dignísimos representantes de la repostería gringa
Restaurantes, Pastelerías
El canadiense Tom Grant estaba tan frustrado al no encontrar cupcakes en su adoptiva ciudad de México que decidió hacerlos él mismo. Así nació en 2007 el primer lugar especializado en este postre que, para ese año, ya hasta había pasado de moda en Nueva York (después de ser catapultado a la fama por la serie Sex and The City), pero que aquí no existía. En poco tiempo estos pastelillos embetunados, mucho más ligeros y esponjositos que los muffins y mantecadas, se ganaron el corazón y el paladar de los chilangos. Ahora tienen sucursal en Polanco (Anatole France 87; 5280 3300) y un rinconcito en Palacio de Hierro Durango (Durango 230, Roma), además de un sinfín de locales copiones que no son, ni de lejos, tan buenos como éste. Ya sea un clásico vainilla-limón, blueberry-queso o red velvet, o una de las creaciones originales como el Tommy (chocolate, queso crema, chocolate líquido y caramelo), el de té chai o el de mango, difícilmente hay un postre que ponga de mejor humor.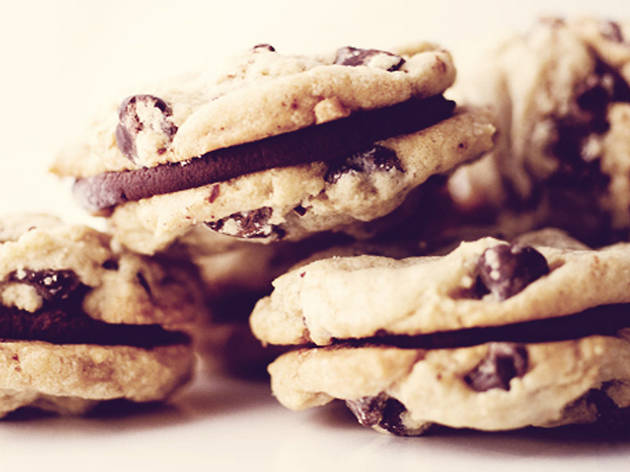 En México normalmente entendemos las galletas como esos bocaditos de masa reseca que vienen en presentación "surtido rico" y que ofrecen en las oficinas en Navidad. La galleta típica estadounidense en cambio es grandota, suavecita y llena de ingredientes tentadores. Y entre más casera, mejor. Este es el tipo de galletas que hornea Kim de Anda en su departamento de la Roma y que comercializa a través de una tienda virtual (con entrega en todo el DF). Hay cuatro categorías: las tradicionales (avena y pasas, jengibre, peanut butter y chispas de chocolate) las más ricas (twix, aguacate con pistache, honey bacon, s'mores y chocolate y menta), las nutritivas (sin grasa, veganas o, bajo pedido, sin azúcar ni gluten) y las que ladran y maúllan (para perros y gatos... aunque hasta para humanos saben bien). Ya quisieran las abuelitas cocinar tan rico como la veinteañera Kim, que próximamente abrirá un local o un food truck (¡o los dos!).