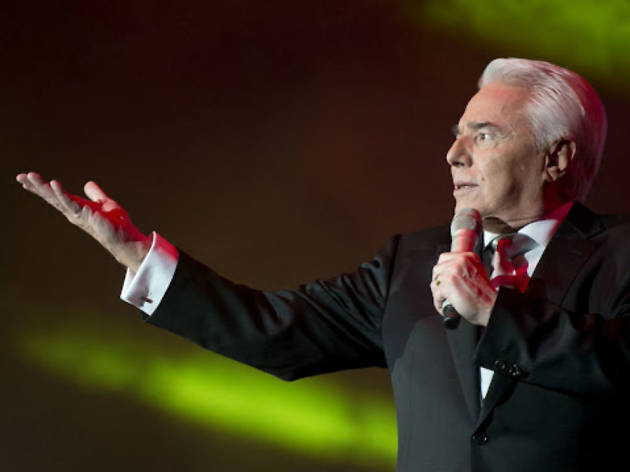 Time Out dice
Enrique Guzmán, Angélica María, César Costa, Roberto Jordan, Julissa y Benny, vuelven al Coloso de Reforma a dar una cátedra de rock and roll sesentero
Después de muchos dimes y diretes, el show Juntos por última vez reunió a los cuatro exponentes del rock and roll latinoamericano, dando como resultado un concierto en el que cantaron Enrique Guzmán, Angélica María, César Costa y Alberto Vázquezo en el Auditorio Nacional, por última vez (aunque siempre dicen lo mismo), pero ahora, con un cambio de alineación presentan Los grandes del rock.
Aquellos que disfruten de la música de los buenos viejos tiempos podrán darse un chapuzón en el México recordando desde los cincuenta y hasta los setenta. ¿Te suena familiar el programa Papá Soltero? Pues César Costa protagonizaba al protagonista, al igual que fue conductor en La carabina de Ambrosio; sus piezas más reconocidas son "Besos por teléfono", "Chica mala" y "Loco amor".

Sabemos que Enrique Guzmán tal vez es personaje que levantó la escena del rock and roll en México, la cual tuvo réplica en paises como Argentina, Colombia y España. Formó parte del legendario grupo Los Teen Tops y debutó con "Mi corazón canta".

Por último, pero no menos importante, la llamada Novia de México, Angélica María. Con dos nominaciones a la Diosa de Plata, una versión debutante de "Edi Edi" junto con Manzanero, y un último disco grabado en 1972 con el gran éxito "Lo que sabemos del Amor", Angélica forma parte de los ídolos femeninos mexicanos. Además se presentará Roberto Jordán y la pareja setentera más emblemática de México; Julissa y Benny.

Como datos curiosos: Angélica y Enrique eran considerados "La pareja de oro" durante su noviazgo; en el doblaje de Coco estuvieron Angélica como la abuelita de Miguel y César Costa como papá de Miguel; Angélica formó parte del elenco de Luna Escondida.
Recomendado: Conciertos en agosto en la CDMX.
Detalles
Los usuarios dicen