Björk presenta Cornucopia en la CDMX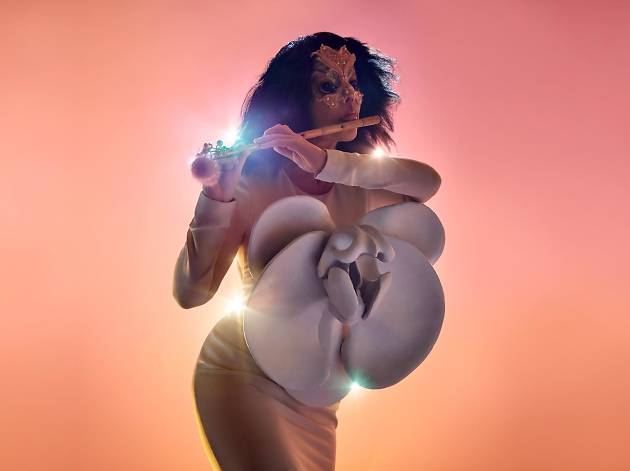 Time Out dice
La cantante islandesa presenta su show Cornucopia en el Parque Bicentenario de la Ciudad de México
Cuando se dio a conocer el line up del desaparecido festival Sonofilia, en 2007, a los capitalinos se nos llenaron los ojos de lágrimas. Entre emoción, por ser la primera visita de Björk a nuestro país, y rabia por ser en una reserva natural en Jalisco, nos tuvimos que conformar con el costo de los boletos y la experiencia del festival.

En 2012, la mujer de la voz de hielo volvió a México, pero esta ocasión al Festival Cumbre Tajín en Veracruz, y presentó su disco Biophilia, una intersección entre la música, la ciencia y la tecnología, el cual revolucionó la manera de concebir los trabajos musicales.

Después del visitar la Ciudad de México en 2017 para promocionar su disco Vulnicura con un concierto en el Auditorio Nacional y encabezando el festival Ceremonia 2017, la cantante islandesa presentó Utopia. A principios de 2018 anunció su estancia en The Shed, un nuevo recinto en Nueva York en el que presentó Cornucopia, un show integrado por un grupo de flautistas y un coro islandés.
Si bien se dijo que sería un show exclusivo para The Shed, Björk vuelve a la CDMX el 17, 20, 23, 27 y 30 de agosto para presentar Cornucopia en el Parque Bicentenario. Como es de esperarse, el costo de los boletos va de los $1,500 a los $10,000 , pero sabemos que los conciertos de la islandesa son garantía. La preventa comenzará el 28 y 29 de mayo.

Recomendado: 6 razones por las que amamos a Björk.
Detalles
Nombre del lugar
Parque Bicentenario
Sitio web del lugar
www.parquebicentenario.gob.mx
Dirección
5 de Mayo
Refinería 18 de Marzo
México, DF
11470

Esquina con
Ferrocarriles Nacionales
Transporte
Metro Refinería
Precio
$1,500-$10,000
Horas de apertura
Horario Mar-dom 7am-6pm
Fechas y horas
Los usuarios dicen