Specialty coffee bars in Mexico City
These spots prepare coffee with special craft methods, ideal for the most demanding palates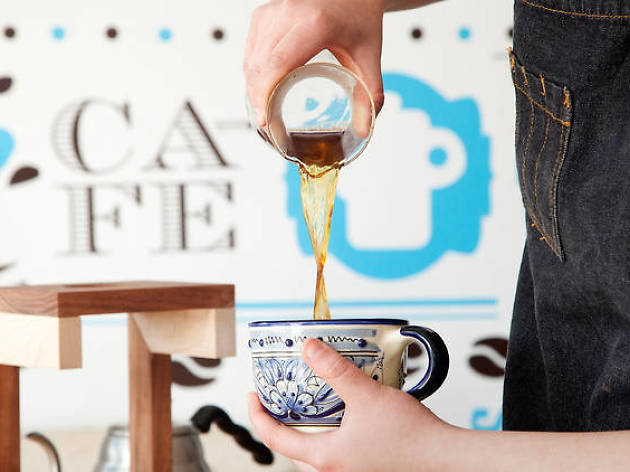 Specialty coffeeshops in Mexico City
We recommend the Japanese trap: a sweet drink and very light texture. Bread is brought in daily from the ovens of La Puerta Abierta, tea is an exclusive selection of Tomás Casa Editora de Té, and ice cream comes with Amor Casero's signature. It's called affogato! The best of two worlds in a cup: a ball of ice cream with espresso.
Leer más
Try the iced coffee extraction, a graceful distillate. The method consists in straining the grain with a slow drip (about one drop per second) to get an extraction in eight to 12 hours. The result is a wonderful cup of low acidity or bitterness, with an inconceivable sweetness. It's alchemy!
Leer más
This coffeehouse is one of the biggest supporters of the third wave of coffee (a movement that leaves promptness aside in order to offer the best sip). Order culto al café (a tribute to coffee), three cups of coffee from the dripper. Our favorite is gibraltar, a beverage similar to a cortado, and one of the best kept secrets of baristas worldwide.
Leer más
One of the best coffee shops in town is also one of its best kept secrets, hidden inside Mercado Lázaro Cárdenas. Some of their recipes are patented, like alelis berries coffee, a mix of red berries, dark chocolate and coffee. Passmar has won three national barista awards and the world sub-championship of latte art.
Leer más
Amaze yourself with the display of multiple tools for coffee extraction, like the Japanese trap, aeropress and dripper. Each cup shows a very high quality of both the product and the method.
Leer más
First came the espresso, then a cappuccino, american and mocha. Today, thanks to the development of other styles and methods, specialty coffeehouses go beyond a light or strong flavor. Don't miss their coffee tasting sessions.
Leer más
The origin of the grain, roasting and extraction, make each cup unique and difficult to reproduce. That is the main principle of Guapo Café (handsome coffee), a small and enchanting specialty coffeehouse.
Leer más
Their specialty is the cold brew method that extracts the coffee in about eight hours. Ice is placed on top of the system and water filters through the grinded beans, the result is an energetic cup.
Leer más
A fast and effective service with all of your favorite methods for coffee extraction. The star is the dripper method; drop by drop the cup is filled with a delicious brew. Try the clever coffee: light body but more caffeine than a regular espresso.
Leer más